Recorded during TEDxWakeForestU on in Wait Chapel on the Reynolda Campus of Wake Forest University.
Peer Network Engagement Interns (PNEI) enhance health profession students knowledge and access to information to inform their decisions about the health professions workforce and issues of diversity. Our PNEIs connect and build relationships to strengthen community service learning as a part of the Health Justice Revolution. As a part of this new and exciting partnership, students will help us identify community related activities promoting awareness of how the health professions assist in building human capital across communities. Please consider joining our community engaged service learning experience!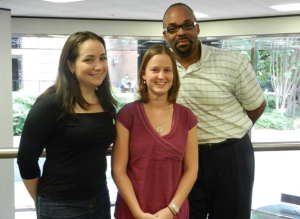 DEAC Clinic, the student-run free medical clinic of Wake Forest School of Medicine has been awarded the Helping Hands Program Grant by the American Psychiatric Foundation. The Helping Hands Grant Program awards up to $5000 to medical students for mental health service projects in an initiative by the Foundation to increase participation in community service for underserved populations, raise awareness of mental health illnesses and the importance of their early detection, and increase interest in psychiatry among medical students. The DEAC, or Delivering Equal Access to Care, clinic is a free medical clinic managed by Wake Forest School of Medicine medical and physician assistant students and faculty in collaboration with Winston-Salem's Community Care Clinic. DEAC's mission includes providing free, high-quality healthcare to local underserved individuals and communities in a sustainable manner through a weekly clinic and associated outreach activities, creating a unique, service-oriented learning experience for the students of Wake Forest University that includes educational enrichment opportunities, and fostering a culture within the Wake Forest community which values the importance of providing healthcare for the underserved. DEAC plans to implement the grant at its weekly clinic through a program designed to help identify prevalent mental health illnesses in their patients, educate all patients about mental health illnesses, and help patients find available community psychiatric resources.